16 CHICAGO BARS WITH AMAZING OUTDOOR PATIOS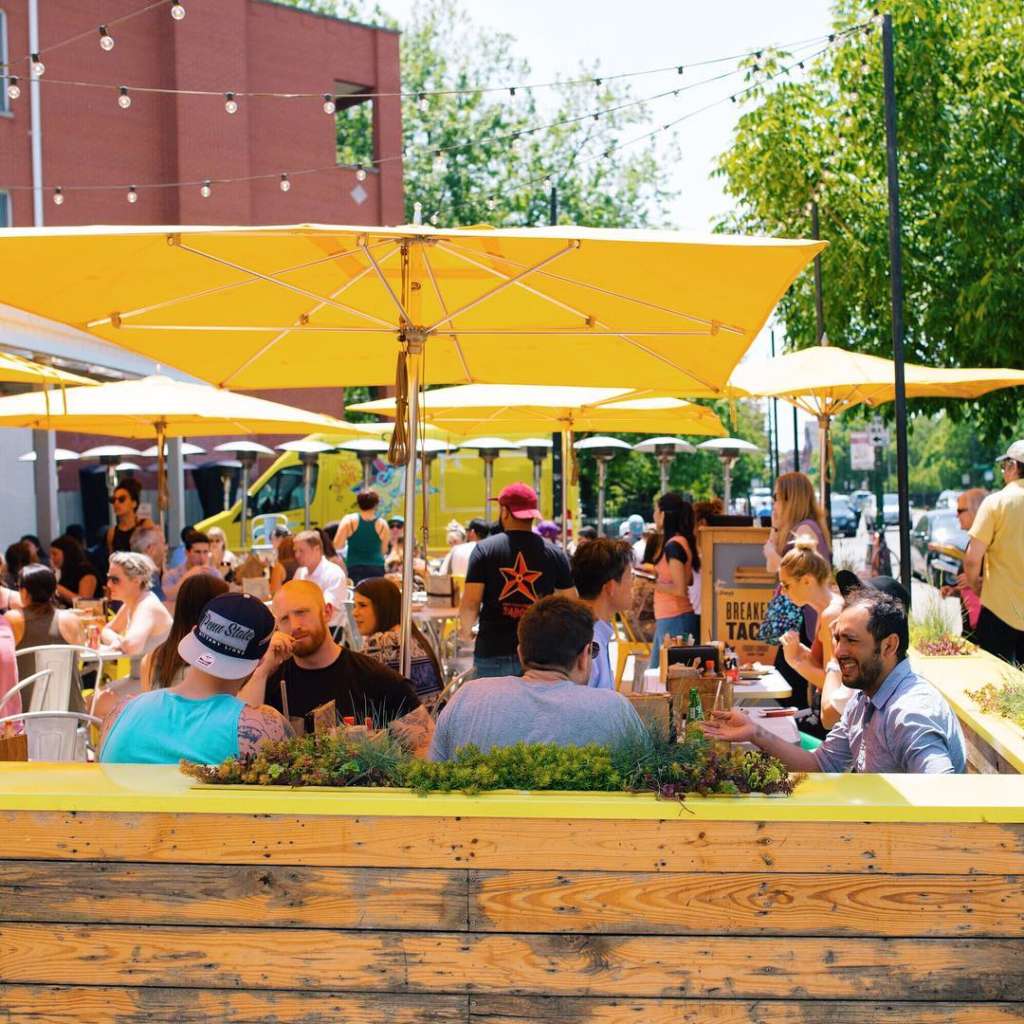 CHICAGO BARS WITH AMAZING OUTDOOR PATIOS
Blink and you're sure to miss it, but somewhere between the frigid temps of the Illinois winter and the scorching heat of the city summer are a few short weeks of practically perfect weather in Chicago. We're talkin' the kind of sunshiny, 65-degrees-and-up forecast that makes every Chicagoan from the north to the south wanna grab a drink and pull up a chair right on the spot.
Yup, that's right – we're talkin' about patio season. And while it may not seem like it now, it's coming up fast.
Here are 16 Chicago patios you've just gotta check out.
3509 W Fullerton, Logan Square
A newer addition to Chicago's well stocked patio roundup, Park & Field's massive, 6,000 sqft outdoor space is perfect for a spring (or fall!) patio outing. With the laid-back lawn chair attitude that the city is known for – and a few s'more worthy fire pits – we've got a feeling that you'll be spending quiiiite a bit of time here once the weather lets up.
Plus, they've got bocce!
960 W 31st, Bridgeport
A Bridgeport favorite for years now, what Maria's patio lacks in size it more than makes up for in style. Chock full of awesome drinks – and even better people – there are few finer places to soak up the sun on a Saturday afternoon.
730 W Grand, River West
Enjoy one of The Dawson's wild, shareable drinks in their incredibly picturesque outdoor space this year. Seriously – it's like Instagram came to life out there.
3281 W Armitage, Logan Square
A divey favorite of both hipsters and locals alike, Best Intentions is a fair-weather hangout for the books. Strong drinks and stronger vibes, you'll feel right at home in no time.
315 N LaSalle, River North 
So, yes – the aptly named River Roast is more of an upscale restaurant than it is a bar, but with amazing patio views like this, it's just too good to pass up. Stop by for a drink or two (or seven) and loose a day by the Chicago river.
1401 N Ashland, Wicker Park
This Asian fusion restaurant on the cusp of Wicker Park has got the patio formula down pat: stellar drinks, a crazy-cool space, local art and, to top it all off, some of the best food on the northwest side. Oh yeah, sign us right up.
2015 W Division, Wicker Park
A vegetarian joint at heart, Clever Rabbit's outdoor patio is space is one of those under-the-radar gems that needs – nay, deserves – wayyyy more recognition than it gets. Sip on a signature cocktail and indulge in a bit of much-needed people watching this season and we guarantee you'll become a regular right quick.
1415 W Randolph, Near West Side
Okay, okay – so Kaiser Tiger is on the broier side of Chicago bars. But with a patio like that, this west side spot is a must-visit nonetheless. And though, true, the spring or fall is definitely the best time to take in the sun at this beer garden, they also have curling rinks in the winter that are weeeelll worth a visit (or ten).
1059 N Wolcott, East Village
Happy Village the patio dive you've been waiting for. With a feel more akin to your best friend's backyard than an actual bar, Happy Village doesn't have to worry about getting people in, it's getting them to leave that's the problem.
3349 N Halsted, Boystown
One of Chicago's best gay bars and clubs, Sidetrack is a true summertime go-to. Oh, and if the gorgeous backyard patio isn't enough for you, the legendary Boystown location also does drag shows, out-of-bounds performances and killer parties all spring that you're not gonna wanna miss.
5148 N Clark,  Andersonville
Just when you didn't think it was possible, Andersonville's staple late night hang gets that much closer to perfection when it's outdoor space opens up in the spring. Whether you're trying one of dozen beers on tap or enjoying some of the tastiest dishes this side of the river, Hopleaf is a patio must.
2701 S Elanor, Bridgeport
This Bridgeport mainstay has not one, but two levels of backyard patio for you to try out. I mean, c'mon.
1531 N Damen, Wicker Park
No roundup of patio bars in Chicago would be complete without a shout out to this Wicker Park favorite. With a line that usually wraps around the block, this self described taco honky tonk is serving up fire dishes, music and atmosphere on their sidewalk patio all summer long.
5403 N Clark, Andersonville
Tacos? Check. Giant margaritas? Check. A patio to die for? Check, check and check. Cescas is a Chicago spring destination for sure.
960 W 18th, Pilsen
Pilsen has no shortage of amazing outdoor spots, but this sidewalk stop in the heart of the neighborhood puts the rest to shame. Head here on a lazy Sunday for drinks that are anything but standard and an shady afternoon you'll wanna repeat time and time again.
116 N Green, Fulton Market
Hidden in its own little cobblestone nook of Fulton Market, RM Champagne's french bistro inspired patio will have you snappin pics left and right.
Featured Image Credit: Big Star